Case Study: Carnegie Centre of Excellence for Mental Health in Schools Award – Gold Standard.
The school has been engaged with the Mobilise Project, Lincolnshire since 2016, working with a cluster of schools to explore a wide-ranging evidence-base to action meaningful school improvement activity relating to emotional health and wellbeing.
Kamila Abualzulof, Deputy Head at North Somercotes has been a Cluster Lead for the project and, with the support of her Headteacher Paul Floyd, has led the direction for the school in relation to emotional health and wellbeing. In 2018-19, it was identified as a priority on the school development plan, and the continued work to identify, implement and develop a whole-school wellbeing ethos has led to the school achieving the Gold Carnegie Centre of Excellence for Mental Health in Schools award.
The decision to apply for the award was taken not only to celebrate the school's success but also so that a strong message could be shared with the school community; mental health and wellbeing is a priority here, not just an add-on but very much part of the curriculum and the whole-school approach.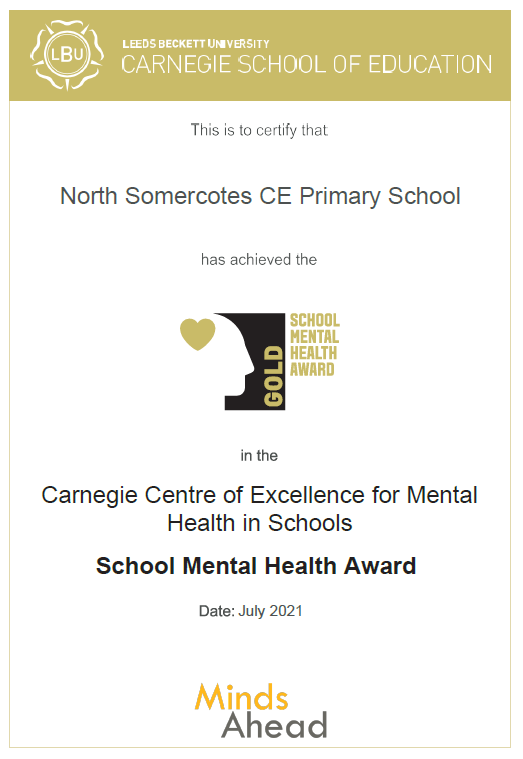 Read the full case study here:
North Somercotes CE Primary School, Going for Gold: The Carnegie Centre of Excellence – Mental Health Award
The case study includes:
What does leadership of an embedded whole-school strategy for emotional health and wellbeing look like?
What was the school's experience of the award process?
What does a Gold standard school look like?
What's next for the school that has embedded emotional health and wellbeing at the centre of their school ethos?