Legsby Primary School is a small rural school in the Lincolnshire Wolds, just outside Market Rasen, with just two classes. It is a rather unique school in that its main classroom teachers, Lucy Dabbs and Ben Murray, are also the school's co-headteachers.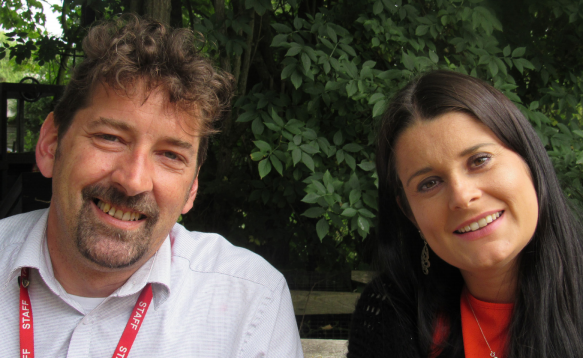 Background
Both Ben and Lucy began their teaching careers at Legsby Primary School as NQTs. Lucy started the school in 2009 teaching EYFS and KS1, with Ben joining two years later, in 2011, to teach the KS2 class. The school had a full-time headteacher up until the summer of 2016, after which an executive head was put in charge; however, the executive headteacher was only able to be present at Legsby Primary School for one day of each week. "The executive head did a great job when they were in school, but this clearly wasn't a long-term solution" says Lucy. "For the other four days of the week the school appeared to be leaderless, and it was at this point that Ben and I had to step up to the mark and become the 'face' of the school, for the parents and children alike. We also had to take responsibility for the smooth running of the school on a day-to-day basis, dealing with any issues that arose, and communicating with parents whenever necessary." However, despite taking on this level of responsibility, Ben and Lucy remained classroom teachers, with no official leadership roles.
Moving towards a model of co-headship
The governors explored many different avenues to find a new headteacher for the school, and looked into a number of diverse options, including employing a part time head, buying in a head from another school, or federating with another school and sharing the headteacher across both schools. However, it was Lucy and Ben who first suggested the option of co-headship. Ben explains, "Lucy and myself knew that we could make a success of co-headship; we'd practically been doing it for a year already, and had demonstrated that we could lead the school together as a team. It was clear that we had the same values and vision for the school too, and we also agreed about the things we wanted to change". Lucy adds, "the governors were quite sceptical about the idea at first as there wasn't much information out there at the time on co-headship. The governors felt that, for logistical reasons, only one person could be in charge, as only one person could have the final say on decisions. However, they did allow Ben and myself to make our case to them, and we were invited to present to them, separately, about our vision for the school, and how we intended to ensure that the co-headship model would be a success."
"Lucy and myself knew that we could make a success of co-headship; we'd practically been doing it for a year already, and had demonstrated that we could lead the school together as a team."
Despite writing and performing their presentations separately, it was clear that Lucy and Ben were very much on the same page about what they wanted for Legsby Primary, and how, as co-heads, they would achieve it. They also clearly outlined how their co-headship would work; "we told the governors that we wanted to share our responsibilities as co-headteachers completely equally, in every aspect of the job. Since we would both be learning to be headteachers, it made sense to us to do everything together, and therefore learn about every aspect of the job from the very beginning", says Lucy. "Thankfully, we managed to convince the governors in the end that a co-headship was a good idea", says Ben, "and we became the co-heads of Legsby Primary in September 2017."
The practicalities of the co-headship model
Being the only two teachers at Legsby, some practical changes had to made before Lucy and Ben were officially able to become the co-headteachers of the school in September 2017. A part-time teacher was employed to provide Ben and Lucy with sufficient time to fulfil their new role, as well as time for their PPA. "We put together a clear timetable", says Ben, "which enabled Lucy and myself to both have one day out of the classroom each week to focus on headship tasks, an afternoon off together each Tuesday for a co-heads meeting, and also both have half a day of PPA time weekly. This time out of the classroom is mostly covered by our part-time teacher, Miss Vout, who teaches both classes at the school on different days, and also by PE and Music specialists who teach the children on Tuesday afternoons."
"We are very careful to ensure that our performance, as co-heads, and as classroom teachers, is regularly assessed by an external source that we can rely on to be entirely objective and accurate."
As Ben and Lucy only have Tuesday afternoons together, it is vital that there are clear communication channels to keep each other up to date regarding any important business on a day-to-day basis. Lucy tells us, "we have a shared notebook where we keep a continuous record of our activities during office time. We also make a note of what tasks need prioritising, or need to be dealt with urgently, and also include any issues that have come up which need to be, or are in the process of being, resolved." Lucy and Ben also share a diary, and have one shared email address between them; "this helps us to avoid a situation where staff or parents might just email one of us", says Ben, "and means that we are both equally aware of any queries, comments, or issues which may come through via email."
Accountability
As Lucy and Ben are both the co-heads, and the two main teachers at Legsby Primary School, it is clear that a high level of accountability needs to come from sources that are external to the school itself. To ensure that this the case, the school is regularly visited by an education advisor, Andy Craven, who works alongside the chair of governors to monitor the staff and school's ongoing performance. This includes completing regular lesson observations, staff appraisals, and book scrutinies. "As co-heads, it's really important that we have regular external feedback on our school's performance", says Ben. "We are also very careful to ensure that our performance, as co-heads, and as classroom teachers, is regularly assessed by an external source that we can rely on to be entirely objective and accurate." Legsby's governors also perform monitoring visits every term, with each visit focusing in on two key areas of the school's provision, as well as continually monitoring the effectiveness of teaching and learning, and the school's leadership.
Outcomes of co-headship so far
Ben and Lucy first became co-heads at Legsby following a period where the roles and responsibilities of all members of staff (TAs, the administrator, midday supervisors etc.), including their own, had become very blurred. Therefore, one of the first things they did as co-heads was to clarify job roles within the school. "During the summer before we became co-heads, we met with each member of staff one-to-one to make job descriptions really clear", says Ben. "We generally had a good chat with each member of staff about any issues they had, and discussed what their role would look like moving forward, with lots of input from both sides. We wanted to create a fresh start for our staff, based on shared expectations and understanding." Lucy and Ben also invested in their own CPD, attending Kyra's 'New to Headship' course, "this was a great opportunity for us to learn more about the roles and responsibilities of headship, and to clarify exactly what would be expected of us", says Lucy, "and it also gave us the chance to meet other headteachers and to build up a network of contacts who we knew we could get in touch with if we needed advice or a second opinion on anything."
Pupil numbers, which were at around just 25 in September 2017, were another key area of focus for Ben and Lucy. "We knew this was a real challenge for us, so we did everything we could to improve numbers", says Lucy. "We advertised in local newspapers, as well as making sure that any events taking place at the school were reported in the local press. We forged much stronger links with local pre-schools, and encouraged potential new starters to come and visit the school. We also got the school much more involved with the local community, offering locals the opportunity to attend events such as our summer fayre, and our 'Big Dig' event, where we started our school allotment, and also did lots of jobs to improve the school grounds." Lucy and Ben's efforts really paid off, with pupil numbers almost doubling to 48, and still growing, by the summer term of 2019.
"We are lucky that our pupils, parents, and the local community were really positive about our co-headship from the off"
Other notable changes brought about by Ben and Lucy have included introducing more opportunities for whole school collaborative learning, and creating a new curriculum for each key stage, which will run on a 4-year long, rolling basis. Whole school assemblies are also now held twice a week. "Bringing the whole school together more to engage in collaborative activities and learning has made a real difference", reflects Ben. "The school now has much more of a family feel, with the older pupils looking out for the younger ones, and the younger pupils looking up to the older ones. The pupils at our school come from diverse backgrounds, and as co-heads, Lucy and I have put a real emphasis on the importance of being welcoming and inclusive of everyone. We can see the results of our efforts on a daily basis, as our pupils have really embraced that message, and really look out for one another."
Reflections on co-headship so far
Challenges
"We are lucky that our pupils, parents and the local community were really positive about our co-headship from the off.", says Ben, "but that doesn't mean we haven't had challenges. For example, it took us a while to fully establish with parents, and some members of staff too, that we are both equally headteachers. Some people would request to speak to only one of us, or only address one of us as the headteacher! Having a shared email address helped with this, as did meeting up with parents together, and making it clear that decisions would only be made after communicating with one another. The message has definitely got through now, it just took a bit of patience and perseverance!"
"Whenever we make decisions, we both have the same end goal in mind, and that is to do whatever is in the best interests of our pupils and the school."
It also appears that this example of co-headship is not one that has resulted in reduced workload. Lucy explains, "it's a full-on job, being both classroom teachers and co-headteachers. It can on occasion be a struggle to juggle both roles, as there is often no one to delegate to, and we both end up having to do a bit of everything that needs to be done within the school! However, despite the fact that it is sometimes hard work, we love what we do and are completely dedicated to the school."
Benefits
"I think the pressure of headship is reduced because we are in it together", says Ben, "and that shared responsibility makes the role less of a burden. If either of us are worried about anything, we can talk about it together, and come up with a solution together, and that kind of mutual support really helps." Lucy adds, "we also bring different skills to the table, for example, I'm very organised which helps us to get through all the administration we need to complete as heads. On the other hand, Ben is a great communicator, so he's brilliant at dealing with parents and addressing them at events. There are lots of other examples like this too, that show that we offer much more together, as co-headship team, than we possibly could as sole-heads, and I think everyone benefits from that."
"Ultimately, I think our co-headship works so well because there is no competition or rivalry between the two of us"
Overall, both Ben and Lucy agree that the co-headship model works really well for them. "We make a good team because we deal with our differences through discussion, respect each other's points of view, and are able to negotiate. In fact, solving problems through discussion is an approach we encourage throughout the school, whether that's dealing with an issue with a pupil, or between pupils, we focus on understanding one another and resolving differences calmly and respectfully", says Ben.
"Ultimately, I think our co-headship works well because there is no competition or rivalry between the two of us.", says Lucy. "Whenever we make decisions, we both have the same end goal in mind, and that is to do whatever is in the best interests of our pupils and the school."
Conclusion
Both Lucy and Ben have a shared passion and dedication towards ensuring that Legsby Primary provides the best education possible for the children it serves, with high expectations for all of their pupils within the context of a warm, caring and inclusive 'family' atmosphere. They have worked with one another at Legsby for over ten years, and this has included facing some turbulent times together at the school. Their relationship as co-heads appears to be very strong, and it is clear that from the beginning, they have approached their shared role in the way that feels right for them; as complete equals, and with shared responsibility in every area. "It works really well for us", says Lucy, "and I think for the school too". Ben adds, "we certainly have happy children, staff, and parents now, and the school itself has a very positive, 'family' atmosphere; so from that perspective, I think we can confidently say that our co-headship has been a real success so far!"