When the Head of School of Mount Street Academy, Lauren Nicoll, went on maternity leave in September 2015, she wasn't certain whether she would return as Head of School, or, indeed, stand down from the role.
"I knew for sure when I first went on maternity leave that I wanted to work part time on my return to Mount Street" says Lauren , "but I didn't know whether the school would want a part-time head or not, and I was prepared to step down from the role, as much as I loved it, if that wasn't an option. However, as the time to return grew closer, I asked the question and it was arranged that I would work as Head of School for three days a week. The two assistant heads, Rachael Horn and Emily Burford, would take charge of the day-to-day running of the school for the other two days. It seemed like the perfect solution."
Going part-time
Lauren was pleased to go part-time while also remaining head of school. However, she soon discovered that the arrangement was by no means the 'perfect solution' for her, in terms of balancing the demands of work and motherhood. "I found that work was essentially just building up for me on my days off, and I would get quite anxious about how much would be waiting for me when I went in on a Tuesday, my first working day of the week. Rachael and Emily were doing a great job, but – inevitably - there was always a large pile of issues awaiting me whenever I went back into school after a day off, that people specifically wanted the headteacher to deal with. I always felt exceptionally guilty about asking Emily or Rachael to complete tasks which were the responsibility of the Head of School too, as that wasn't their job. In the end, I felt like I was trying to fit five days' work into a three-day week, and I didn't feel it was sustainable."
A need for change
When Lauren went on her second maternity leave in 2016, she knew something had to change. "I gave my honest opinion, which was that I thought Mount Street would benefit greatly from having a Head of School, on site, every day of the week", says Lauren. "However, I still wanted to work part time, and while I hoped that a job share might be a possibility, I was also taking the risk, again, that I might have to stand down so that a full-time headteacher could be employed in my place."
Thankfully, Lauren did not have to stand down. During her maternity leave, Rachael Horn had taken on the role of acting Head of School at Mount Street, and she agreed to become a co-head of school, alongside Lauren, on her return. It was agreed that Lauren would work three days a week, and Rachael would work four. Rachael explains, "while my children are grown up now, I saw becoming a co-head as a really positive thing for me too, because it offers a greater amount of flexibility, and a greater degree of work-life balance than a role as a full-time head; so I was more than happy with the arrangement."
The transition to co-headship
Once the decision to embark on a co-headship had been made, Lauren and Rachael spent some time together to discuss the details of the arrangement, and how it would work in practice, before Lauren returned from maternity leave. "We had a very honest and open conversation with one another, and drew up a contract of agreements about how we were going to behave, make decisions, and settle any differences of opinion as co-heads. We wanted to ensure that even if we disagreed about something, that we would do so in a positive way", says Rachael. Lauren adds, "I think it's absolutely right that we bring challenge to each other, and equally important not to get offended by any differences of opinion, and we needed to have a clear understanding about that. We also agreed that once a decision had been made, even if there had been disagreement during the process, we wouldn't show that beyond the office door."
Rachael and Lauren were very careful to present a united front from day one of their co-headship, which officially began in November 2018. "We wanted the nature of our relationship as co-heads to be really clear from the start, as we knew it was key that staff and parents understood that we are leading together as equals. As a result, we've been quite cautious in these early days. We haven't made decisions individually, on the spot, as it has been important for staff to know we're always communicating with one another, and that decisions are being made jointly. This seems to have worked really well, as staff do come to both of us equally, and email both of us too", says Rachael.
"Our co-headship seems to have been received successfully so far by parents too", say Lauren, "they don't request only to speak with Rachael, or myself, but are always happy to speak with either one of us about any issues. I think that's a really positive sign that our co-headship is accepted and understood by the wider school community too."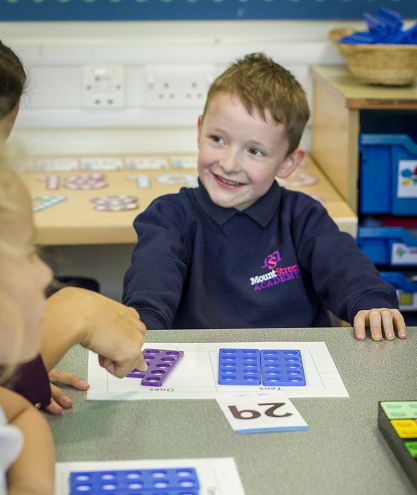 The benefits of co-headship
"We are two very different personalities", admits Lauren, "but so far, that has turned out to be a blessing rather than a hinderance. We bring two different perspectives to the role, and two different skill sets. Combined, I believe, that results in very strong leadership."
Rachael adds, "being co-heads brings a broader perspective. We have different strengths, and notice different things. For example, Lauren is very skilled at having difficult conversations, and I'm good with data, and have an eye for detail. I think as time goes by we are our establishing our individual areas of expertise more and more, and that may mean dividing our responsibilities more clearly and deliberately as our co-headship evolves."
Rachael and Lauren also both agree that their co-headship makes for a better work-life balance too. Lauren finds that she is able to spend more time with her children, and does not have to worry about work on her days off anymore; "I know that the school is in safe hands and that any issues will be taken care of", says Lauren, "so when I am out of work I can dedicate my time and energy completely to my children". As for Rachael, she tells us, "having Fridays off gives me more time to rest and recharge at the end of each week, and I think that's really beneficial and healthy. After the break, I'm able to come back into school feeling refreshed and ready to go on a Monday."
Another benefit which Lauren and Rachael both highly value is having shared responsibility and accountability for the important decisions they have to make as co-heads. "We can problem-solve together", says Rachael, "which I think is much less daunting than doing having to do that on your own. Sharing accountability also means sharing the pressures of the job, and I think that makes the role much less stressful overall."
"As co-heads, we can also support one another through any difficult times", says Lauren, "whether that's professionally, or personally. We can look out for one another, and either one of us can temporarily take on more of the load if we know the other is going through a difficult time."
Advice for others on co-headship & overcoming challenges
Lauren and Rachael both emphasised the crucial importance of drawing up a clear contract, which outlines explicitly how the co-headship team will behave, and how any conflicts, should they occur, will be resolved. "This is not only important for you as a co-headship team, but also for your staff, parents and community, so they can see how you're going to behave as a partnership and know what to expect", says Lauren.
Both also stressed the importance of having clear and open channels of communication with one another. "You have to be very honest, and also prepared to be completely vulnerable with each other", says Rachael; "being co-heads can only work through total transparency, and a commitment to work together as a team. You must meet regularly, and make time to discuss the co-headship and how you both feel things are going."
Lauren adds, "being able to have those honest and vulnerable conversations, without getting personally offended, is vitally important to avoid or overcome any challenges you may face as co-heads. It is those conversations that ensure that we can continue to lead shoulder to shoulder. We also meet with our regional director every term, both together and separately, and I think that is important as we can keep them up-to-date about how the co-headship is going too, from both our perspectives."
Finally, both Lauren and Rachael agreed on the importance of keeping your shared vision for the school at the core of all your decisions. "I think co-headship can only work if you have two individuals who are completely committed to doing whatever is in the best interests of the school, and are able to put that ahead of any personal ambitions or interests they may have", says Rachael.

Looking to the Future…
Rachael and Lauren are determined to make a great success of their co-headship, to ensure that they fulfil their vision of 'creating a haven where children flourish'.
"Whatever changes we may face in the years to come at Mount Street, our vision will always remain at the centre of everything that we do", says Rachael, "so as co-heads we are determined to foster an environment of high expectations and high aspirations for every child at our school, and do all that we can to support and encourage them to achieve their full potential as individuals."